8 Things Humans Might Not Know About Salt
Hey Humans, Sparkles here.
Boy, has my Facebook page been blowing up lately with great comments about winter salting. Trust me, I understand your concerns. It's winter in Wisconsin. We all want to stay safe, warm, sassy and cozy with nicely cleared sidewalks and driveways. We're not interested in being responsible for someone slipping on ice but we also want to help keep our waters clean for future generations. Is this combination even possible? Yes! Read on...
We've already had snow with more on the way. Add to that these fabulous single-digit temperatures and I'm all ready to put my booties on my paws and curl up by the fire to ring in the New Year. Alas, someone will have to clear the snow and ice. I bet there are things you humans don't know about salt. Check it out:
1) Chronic aquatic toxicity. The rivers in our region are highly impaired for chlorides from road salt (See the DNR's 2018 Impaired Waters List here)
2) Salty streams. When snow melts, the salt we put down on our properties to melt ice flows over the land or through storm sewers into lakes and streams. Once salt is in a body of water, it's extremely difficult and expensive to remove and is toxic to fish, other aquatic life and birds. Read one of the largest studies ever conducted on lake salinity here.
3) Prevention is key. The best way to cut back on salt use is to prevent ice from forming in the first place. Shovel walkways and driveways as the snow is still falling or immediately after the storm. The more snow you remove, the less salt you'll need and the more effective it will be.
4) Got thick ice? Salt isn't going to help you out if you've got a 1/2" or thicker layer of ice to remove. You'd find yourself dumping piles and piles of it to do the trick. Sparkles isn't cool with that! Try a heavy ice chopper for thick ice.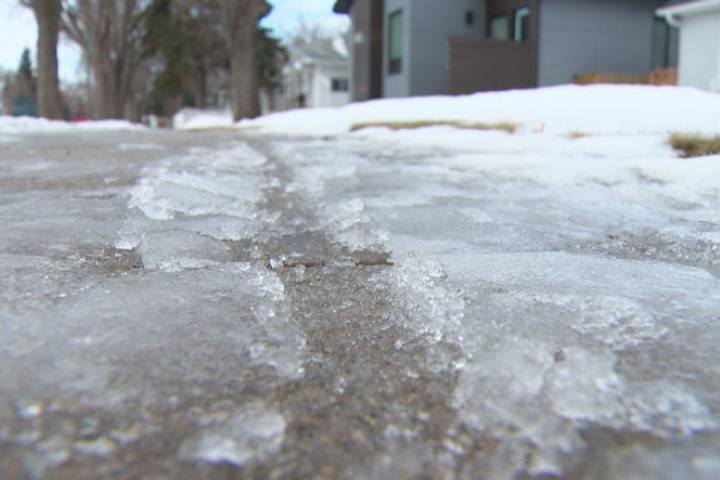 Salt doesn't work on the thick stuff, people.
5) Temperature matters! Is it 15˚F or below? Yes? Guess what...road salt only works if it is above 15 degrees. Don't bother wasting your time or money putting it down. Use sand for traction or an alternative ice melt product that is effective at colder temps. Google it.
6) Don't over-do it. If you use salt, a coffee mug full (about a pound) is enough to treat about 10 sidewalk squares or a 20-foot long driveway. Or a handful per square yard. Calcium chloride goes farther with a handful treating three square yards.
7) Sweep up excess salt or sand after every storm. Not only will you keep it out of the storm sewers, you'll be able to use it again and save money in the process!
8) Hired help? If you hire help for snow removal, please ask your contractor to use salt sparingly, use sand or another alternative, or perform more manual labor to reduce ice formation.
It is important to strike a balance between safely clearing snow and salt from your property and reducing impacts to the environment, human health, and pet health.
It may not seem like it will make a difference if one or two people use salt more sparingly--or not at all--but if many people do it, the impact on water quality can be significant.
Thank you for doing your part to help protect our waters. As I always say, "Clean water is a matter of proper training!"
~Sparkles the Water Spaniel~
Great additional resource:
www.wisaltwise.com